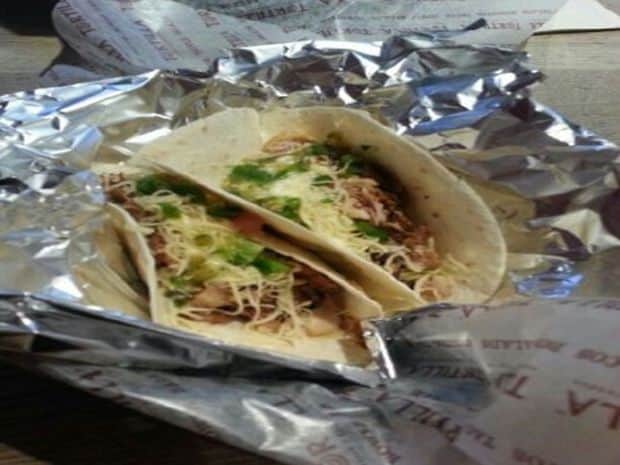 Tortilla
For some reason, whenever I feel the need to have some Mexican, I stop and pause. Umm, uhhh.. where exactly can I eat good halal Mexican food? Don't get me wrong, I've had mediocre Mexican and bad Mexican but this time I didn't want to settle for decent, I wanted the best.
Well I don't know why I thought visiting a Mexican chain restaurant on my lunch break was a good idea but for blog purposes, I must be open to everything so into Tortilla I strolled.
The setting was small with a casual feel to it with three long wooden benches taking up the majority of the space in the building. The servers were patient given the large number of orders coming at them from all directions but one server in particular seemed to get overly upset when I asked about what type of tortilla I could have with my taco.
Upset food server aside, I ordered a chicken taco and for £4.30 I received a generous amount of two tacos stuffed with large spoonfuls of chicken topped with sour cream, salsa, chillies and something I hope was cheese.
I sat down and straight away dug in. The chicken lacked any punchy flavours and was not fresh hence the rubbery effect. The flour tortilla was hard and crunchy even with the drippings from the chicken; it made me wonder about how long these tortillas had been out for. The toppings were scarce and did little for the taco even when it was doused in the house chilli sauce.
So in my search for the best, I in fact failed to do so but hey, maybe Tortilla was having a bad day but I won't be visiting again! If you guys know any good Mexican restaurants for me to try, please let me know, I'm going loco in the search for one!
Halal Status: Chicken is halal across all branches. Pork is present.
Website: tortilla.co.uk/
Previous Post
Next Post