Where to find: Halal Duck in London
About the Author: Eutonne runs one of our favourite halal instagram pages: @etfoodvoyage. She's always creating the most mouth-watering dishes, finding the best desserts and rounding up secret halal gems around the city. You can visit her website here: https://www.etfoodvoyage.com/
---
Duck is probably one of the most underrated meat. I might be a little biased here, but East Asians definitely make the best duck dishes. If overcooked, duck can easily become tough and rubbery. But the Chinese, especially, always nails it. Whether it be in Peking style or Cantonese roast duck style, they're always an absolute delight to savour. Here are our favourite places to get our halal duck fix:
The Best Places to Find Halal Duck in London
Rice Guys
DIY meal kits were the thing over 2020. The best one though, for me, ought to be Rice Guy's Cantonese Roast Duck, which is still currently available for nationwide delivery. The whole dry-aged Cantonese roast duck is generous in portion, easy to prep, and absolutely delicious! If that's too much effort (it's really not though), they also deliver ready-made Cantonese Roast Duck Rice Set where you only need to reheat.
Halal Status: Duck and chicken is halal.
Delivery: Nationwide
Link to order: https://www.pezu.com/collections/rice-guys
For Duck's Sake at Rasa Sayang, Chinatown
Rasa Sayang has always been a popular pick for halal Malaysian & Singaporean food in central London. Apart from the usual dine-in, they have also been stocking up halal ready-to-roast frozen raw duck from For Duck's Sake, ready for pick up at the restaurant! Similar to Rice Guys, For Duck's Sake sources from Silver Hill Ducks, then pre-marinate and dry-age them for 3 days. All you need to do is to thaw the duck, pop it in the oven, and you'll have some delicious Cantonese roast duck on your table in no time!
Halal Status: All meat served is halal. Alcohol is present.
Pick up available at Rasa Sayang
Chai Wu, Knightsbridge
The contemporary Chinese restaurant on the 5th floor of Harrods, Chai Wu, also has some delicious duck offerings. Their Beijing Duck is certainly one of the signature dishes and is served in two ways as per Chinese tradition. You first enjoy the duck with fresh pancakes and bao buns, and then the remaining duck can be served either as a duck fried rice or minced duck lettuce wraps.
Halal Status: Beef, chicken and lamb is halal with the exception of the Japanese beef. No pork but alcohol is present.
Address: Harrods, 87-135 Brompton Rd, London SW1X 7XL
Website: harrods.com/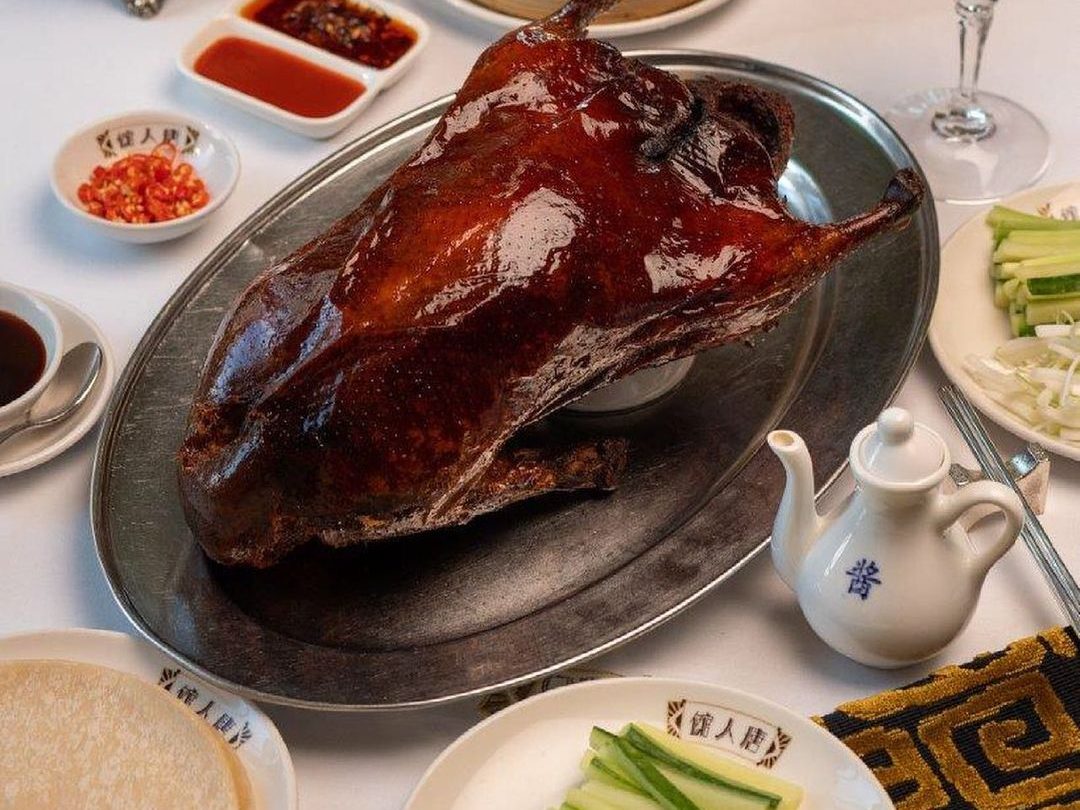 China Tang, Park Lane
If you fancy a bit of Chinese for your next occasion, China Tang at the Dorchester hotel could be a good pick. The restaurant offers a separate halal menu and it includes a duck section, featuring the likes of Peking Duck, Roast Duck, BBQ Pi Pa Duck, as well as Duck Stir-Fry.
Halal Status: Offers a separate halal menu in which all meats served are halal. There is no cross contamination in the process. Pork and alcohol present.
Address: The Dorchester Hotel, 53 Park Lane, London, W1K 1QA
Website: chinatanglondon.co.uk
Duck & Noodle, Queensway
For a (much) cheaper option, Duck & Noodle is a solid choice for your halal duck cravings. Their roast duck la mian noodle soup is a popular pick and they also do halal Peking duck as well as shredded aromatic crispy duck. Of course, you can order just the roast duck as well, available in sizes of quarter/half/whole, or order it as part of a classic Cantonese roast platter!
Halal Status: All meats served are halal. No pork or alcohol present.
Address: 106 Queensway, London, W2 3RR
Website: duckandnoodle.com
Novikov Asian, Mayfair
Novikov's Asian restaurant has always served some of the most exquisite east Asian dishes in town and they have a couple of halal duck options on the menu as well. You can find the likes of halal duck salad and duck spring rolls on the menu, as well as Peking duck, roast duck and roast truffle duck! If you want to get really really fancy, they have halal Peking duck served with caviar on top.
Halal Status: All halal items are denoted on the menu. No pork but alcohol present.
Address: 50A Berkeley Street, Mayfair, London, W1J 8HA
Website: novikovrestaurant.co.uk
Zheng, Chelsea
The contemporary Malaysian restaurant, Zheng Chelsea, has quite a selection of Chinese dishes on their menu including both crispy aromatic duck and Cantonese roast duck. With their Cantonese roast duck, you can have the option to have it served over a bed a roasted peanuts and have it soaking up all the glorious flavours of the duck.
Halal Status: All meats served are halal. No pork but alcohol present.
Address: 4 Sydney Street, Chelsea, London, SW3 6PP
Website: zhengchelsea.co.uk
Previous Post
Next Post