Where To Find: Halal Pizza in London
About the Author: Eutonne runs one of our favourite halal instagram pages: @etfoodvoyage. She's always creating the most mouth-watering dishes, finding the best desserts and rounding up secret halal gems around the city. You can visit her website here: https://www.etfoodvoyage.com/
---
But first…pizza! Everyone loves a good slice of pizza, right? It's pretty much a dish that can absolutely do no wrong. And I don't mean the likes of Dominos, Pizza Hut, or Papa John's. There are some pretty good quality pizzas out there in London and some of them are halal-friendly too! Here is a list of halal-friendly pizza options around London to satisfy your pizza cravings.
Halal Pizza in London
Adora Pizza, Kensington
Medz Corner has plenty of halal food options and one of our favourites is Adora Pizza. Expect a full-on classic Italian Pizzeria menu from starters to desserts, and it's all halal! Go enjoy all the toppings that you couldn't get before – ndujas, beef pancetta, Italian salami, etc. over that fresh Neapolitan pizza dough. Make sure you save a bit of space for desserts because they're lovely too!
Halal status: All meats served are halal. No pork but alcohol present.
Address: Medz Corner, High Street Kensington,
Website: adorapizzaonline.com
Mr White's, Leicester Square
A decade later, Marco Pierre White returns to London West End and opens Mr White's in the very heart of Leicester Square. A separate halal menu is available and offers steak and pizza options to choose from. For pizzas, it's still mostly vegetarian options but there's the Blue Monday option featuring a lip-smacking marinated steak topping, paired with truffle oil, gorgonzola dolce, coriander, and fresh tomato sauce.
Halal status: Separate halal menu available. Alcohol is present.
Address: Leicester Square
Website: mpwrestaurants.co.uk
Japes, Soho
Proper Chicago-style deep-dish pizzas certainly hit differently and Japes is the spot to be to get that lusciously saucy and cheesy deep-dish pizza fix. Halal chicken is available, which comes in the buttermilk ranch option. But you definitely won't be disappointed with a simple Margherita either – sometimes less is more! Craving them at home? You can also get their veggie pizza kits delivered to your door to reheat at home as well.
Halal status: Chicken is halal. Pork and alcohol present.
Address: 22-25 Dean Street, Soho, London, W1D 3RY
Website: japes.uk
Pizza Pilgrims, Various Locations
It felt like yesterday when Pizza Pilgrims was just operating from a pizza van. Today, they are all around London and have a branch in Oxford as well. Their fresh Neapolitan sourdough pizzas have been winning hearts and bellies all around, and did you know they now offer halal options at selective branches as well? After a successful trial at their Westfield White City branch, they are now offering halal pepperonis across all branches. A strict policy has been put in place to prevent any cross-contamination.
Halal Status: Halal pepperoni is available and cooked separately. Pork and alcohol present. 
Address: Various locations
Website: pizzapilgrim.co.uk
Good Pizza, Stoke Newington and Whitechapel
Started out in Stoke Newington and gaining popularity amongst locals, Good Pizza has opened a second branch in Whitechapel this year. Enjoy freshly made stone-baked pizzas with a fully halal menu and plenty of flavour combos to choose from. The prices are super wallet-friendly and is no doubt a local favourite across both locations.
Halal status: All meats served are halal. No pork or alcohol present.
Locations: Stoke Newington / Whitechapel
Website: goodpizzalondon.com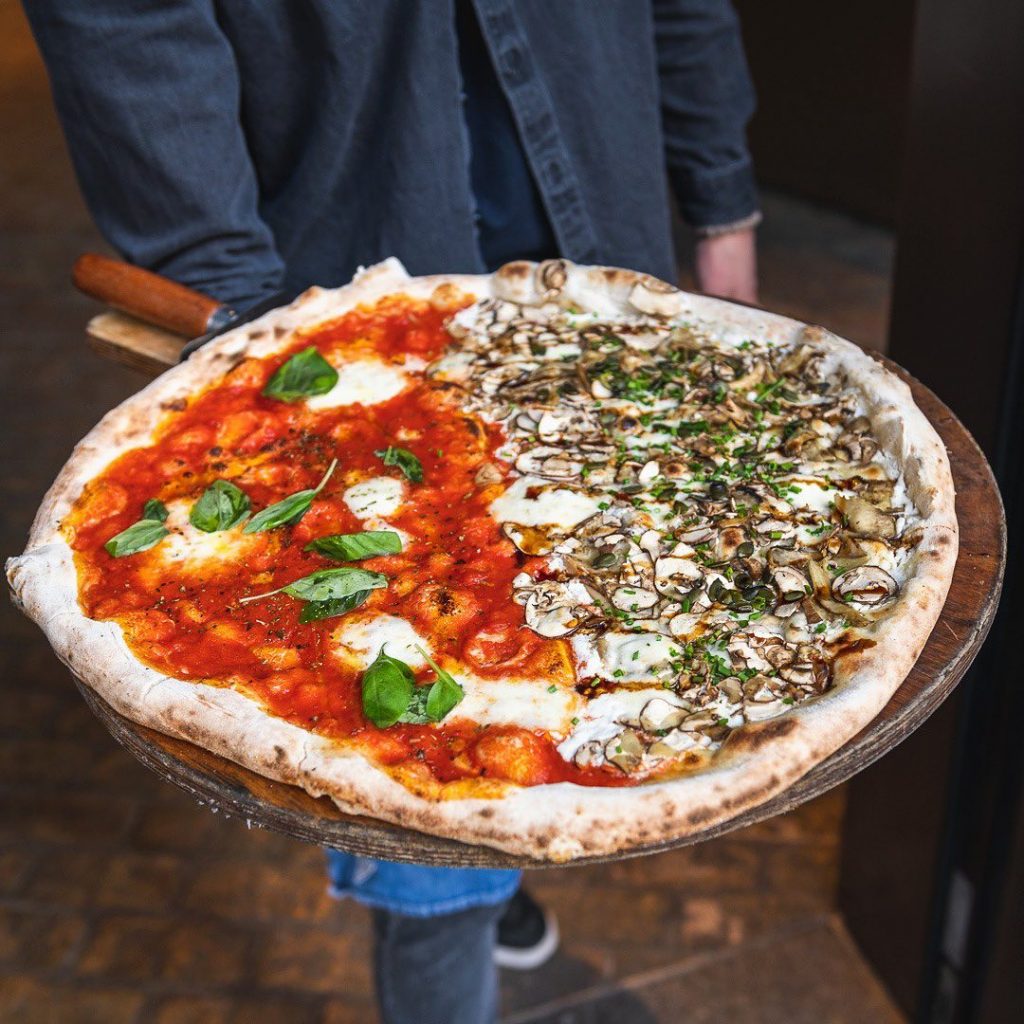 Homeslice, Various Locations
What's better than regular pizza? 20-inch giant pizzas! Home Slice has been known for their humongous pizzas and have introduced halal wagyu and lamb options on their menu. Can't decide just one flavour? You can order half & half – so a flavour on each half – to enjoy two flavours in one go. If you're trying to order on Deliveroo, the pizza will only be for 12-inch and only one flavour per pizza.
Halal Status: Wagyu and lamb are halal. Pork and alcohol present.
Locations: Shoreditch / White City / Mansion House / Marylebone
Website: homeslicepizza.co.uk
ICCO, Various Locations
ICCO pride themselves as 'the people's pizzeria' and offers some really good value halal-friendly pizza slices. It's a convenient spot to stop by for a good slice of thin crust pizza with a wide variety of toppings to choose from. There are currently two locations – one in Goodge Street and the other in Camden, plus delivery kitchens around Wood Green, Colindale, and Croydon.
Halal Status: All meats served are halal.
Locations: Goodge Street / Camden (Delivery only: Wood Green / Colindale / Croydon)
Website: icco.co.uk
---
Other spots for halal pizza in London:
Zonzo Restaurant (Edgware Road)
London Pizza Depot (Ilford)
Fireaway Pizza (various locations)
Previous Post
Next Post