Where To Find: The Best Baklava in London
Baklava is one of those desserts that you just can't say no to, unless you're allergic to nuts, then yes, please say no. It is made with layers upon layers of sweet nuts, filo pastry, and butter (so, so much butter), which is all baked and then drenched in a sweet sugar syrup or honey. It also happens to be a known aphrodisiac, thanks to the honey and pistachio that it is sometimes made with, so be sure to have a plate ready on your next date night.
London happens to be home to some pretty darn good baklava. Skip the gold-wrapped baklavas in Knightsbridge and head to one of these family-owned businesses below for a really special, indulgent treat. If we've forgotten any, leave a comment below and we'll be sure to check it out!
5 of The Best Baklava in London
Sweetland, Acton
Sweetland has been in the Lebanese sweet making business for a couple of decades now, selling their homemade baklavas from their family-run shop in Acton Industrial Estate to people across the country and world too. Whilst you'll find all the classic Lebanese sweets here, they have also introduced a lighter, sugar-free range as well as a vegan range to cater for everybody!
Address: Unit 1, Royal London Industrial Estate, 29 -35 N Acton Rd, London NW10 6PE
Website: https://www.sweetlandlondon.com/
Antepazde, Haringey
You'll be able to spot Antepazde as soo thanks to the bright shop front showcasing an array of different Turkish baklavas. You're going to be completely spoilt for choice here – umming and aahing as you decide what to get – so we recommend ordering the chocolate and pistachio baklava, the havuc dillim (the triangle shaped one) with fresh cream and the midye tatlisi (filled with pistachio and cream). The Turkish milk cake is most definitely a must order too whilst you're there. 
Address: 24 Grand Parade, Green Lanes, Haringey, N4 1LG
Website: https://www.facebook.com/AntepzadeUK/?ref=page_internal
Patisserie Patchi, Acton
Walking into Patisserie Patchi is like walking into a real life candyland. Everywhere you look, you are greeted by rows and rows of their sweet items from kunefes to cream cakes to mamouls to baklavas! They have a variety of classic Lebanese baklavas available here so we suggest going for a mixed plate or box to go. A bonus order is the kunefe kaak a.k.a a kunefe sandwich – an entire cheese kunefe stuffed inside a kaak bread, warmed up and drizzled in sugar syrup. Two words. Absolute. Decadence. 
Address: 28 Abbey Rd, Acton, London, NW10 7SB
Website: http://www.patchi.co.uk/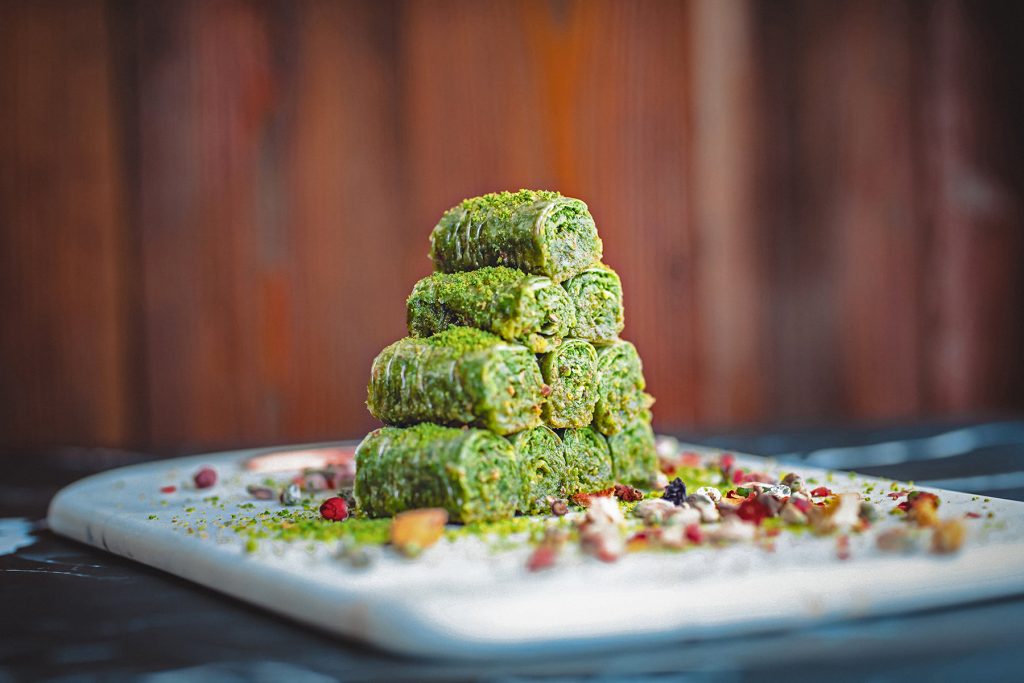 Antepliler Baklava, Haringey
Yes, they're known for doing some of the best Turkish kunefe in London, all topped with thick clotted cream and nuts, but they also have a great baklava menu available, all made daily in-store. Expect melt-in-the-mouth baklava over here and if you're a pistachio fan, the fistikli sarma/pistachio rolls are incredible! If you're a whizz in the kitchen and fancy a challenge, have a go at their traditional Turkish baklava recipe they've published on their website.
Address: 47 Grand Parade, Green Lanes, Haringey, N4 1AG
Website: http://antepliler.com/antepliler-baklava/
Green Valley, Marble Arch
Green Valley is a Lebanese food hall found in both Kensington and just off Edgware Road. In fact, you can't miss it thanks to the towers of baklava that they display right by the window as well as the shelves stuffed with Turkish delight, rows of cream cakes, chocolates and much, much more. Grab a tray of their classic and loved baklavas before heading off to your next dinner party, it's guaranteed to be a winner!
Address: 36-37 Upper Berkeley Street, Marble Arch, London, W1H 5QF
Website: https://green-valley.co/sweets-patisserie/
Previous Post