Wraps & Wings
On my return to the blogging world, I was greeted by what seemed like a huge surge of halal burger joints popping up all of a sudden on my instagram. Oh dear, what a long list of restaurants I will have to visit to eat their delicious, juicy burgers with crispy fries – life of a food blogger!
So Wings & Wraps is a brand new restaurant that has opened up in the little town of Eastcote. They have three other locations: Notting Hill, Stratford, and Shoreditch, which are all delivery only establishments. All of the menus have a variety of food options to choose from such as peri-peri chicken, wings, burgers, and wraps. The burger list was a little small with just two beef burgers, one chicken sandwich that was labelled as "coming soon", peri-peri chicken burger, and a falafel burger.
Simple, yet still remains my standard burger order at any restaurant for comparison purposes! An easy-to-handle burger sandwiched between a seeded, glossy brioche bun. The bun was able to withstand the burger patty with trimmings, however it was slightly dry. The burger patty itself was 5oz, which is slightly smaller but more manageable than the usual offering, and was packed full of flavour, however, was cooked to a grey well-done. Nothing wrong with being cooked well-done but I personally would have preferred the patty to have been a medium or medium-well so it would have retained that nice juiciness. The trimmings were that of a classic American cheeseburger with wonderfully melted American cheese, tangy pickles, a juicy tomato slice, chopped onions, lettuce, mustard, and ketchup. The sweet potato fries were cooked really well so that they had a nice crisp and sprinkled with a delicious rosemary salt.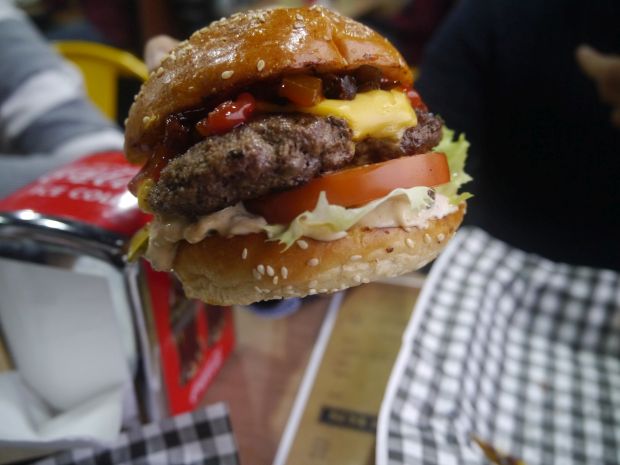 BW opted for the house burger which was similar to my cheese burger but  with extra goodies such as  bbq salsa and chipotle mayo. It seemed like a little too much going on, but the sauces did work well together and the sweetness from the caramelised onions mixed with the smoky chipotle added a nice kick.
Barbeque & Jamaican Jerk Wings

A variety of wings are present on the menu from buffalo to peri-peri, but you're only able to order 3 of the same wings per portion so we asked for the two most popular. At first, I couldn't tell the difference between the two! But soon the tangy flavour of the barbeque sauce came through as did the sweet jerk, however, there was a lot of sauce drowning these wings so it was difficult not to make a mess. The wings were meaty but I also got a couple of mouthfuls of cartilage which I didn't particularly enjoy.
Milkshakes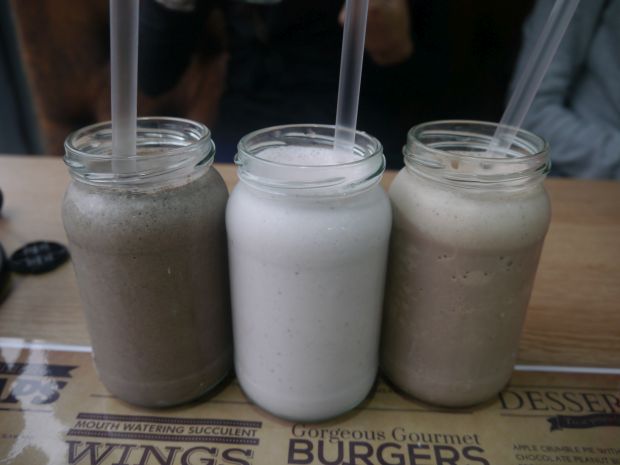 They had run out of vanilla milkshake when we visited – it was only 3pm – so we ordered chocolate, strawberry, and chocolate-oreo. The milkshakes needed to be a lot thicker but had a good flavour, especially the chocolate-oreo.
The meal totalled to around £34 between two, excluding service. £8-£8.50 for a burger may sound pricey – and it is – but remember, these burgers are made from freshly ground beef so no processed meat involved! The burgers were full of flavour in every bite and the toppings were simple, yet effective in making the burger that much tastier. The American cheese had been melted really well all over the patty however, it would have been nice to have an option of what type of cheese you want in your burger. Another thing was that the service was quite slow considering the restaurant was relatively empty so it took a while until our food and drinks arrived. Despite this, Wings & Wraps  is a brand new restaurant – some of the food items are labelled as "coming soon" – so of course nothing will run smoothly or perfectly in the first few months.
Overall, it was a great effort! Also, thanks to Wings & Wraps for being the first halal burger delivery service in London, I cannot wait for a lazy day in the cold winter so that I can order a nice, warm, and mouth-watering burger in the comfort of my own place!
Just on a side note, while I continue to enjoy visiting all these new burger joints around town, it has been a while since I've eaten somewhere that has really gotten me excited.  Actually, I have noticed that it is starting to get a little monotonous and in trying to be different, I feel a lot of them have ended up serving up the same thing. From drinks in a jar to the whole stripped back feeling of the restaurant, the novelty is starting to wear off. If only Shakeshack was halal in London! (As you can clearly see, someone is having withdrawal symptoms mmm).
Address: 92 Field End Road, Eastcote, HA5 1RL
Telephone: 020 8868 4551
Website: http://www.wrapsandwings.com/
Parking: Pay and Display outside the restaurant or free after 6:00pm
Nearest Station: Eastcote underground station
Previous Post
Next Post