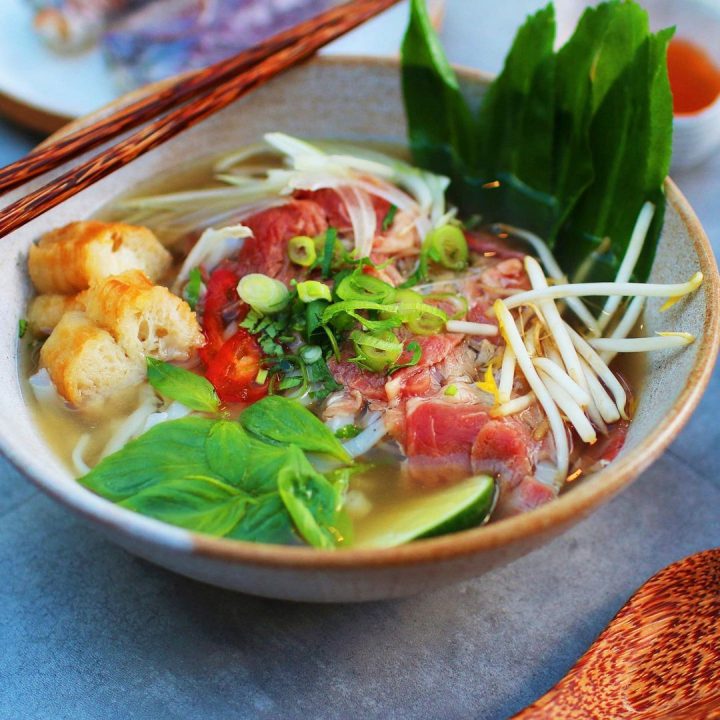 Halal Noodles in London from Around The World
About the Author: Eutonne runs one of our favourite halal instagram pages: @etfoodvoyage. She's always creating the most mouth-watering dishes, finding the best desserts and rounding up secret halal gems around the city. You can visit her website here: https://www.etfoodvoyage.com/
---
The beauty of noodles is that there are so many different types of them to try out! Noodles are quintessentially an Asian staple and each culture has its own speciality. From Malaysian to Burmese, Chinese to Vietnamese, and many more other cuisines, London has quite a few halal options around town to sample your way through the continent! 
Where to Find Halal Noodles in London From Around The World
Ramoramen – Filipino-Japanese fusion ramen
You've heard of Japanese ramen, but what about Filipino-Japanese fusion ramen? Ramoramen offers this unique fusion flavour and has gained a lot of popularity over the years. The Oxtail Kare Kare is an award-winning flavour, featuring a peanut-based beef broth topped with pulled oxtail. Meanwhile, we particularly enjoyed the Sinigang ramen, which has got robust spicy and tangy flavours. The Kentish Town branch is their original branch but if you visit their Soho branch, you will have more flavours to choose from, including the Lobster & Crab Ginataan and the Wagyu Jiro Kaldereta, as well as plenty more amazing starter dishes to try as well!
Halal status: All meats served are halal. Alcohol present in both locations.
Website:
Locations: Soho / Kentish Town
Pino's Warung – Indonesian Meatballs Noodle Soup
Tucked in the Italian Alley of Camden Market, Pino's Warung serves up some of the most homely and delicious Indonesian dishes, including Bakso which is an Indonesian meatball soup served with vermicelli noodles. It is most commonly made with beef and shares a close resemblance to Chinese beef balls. The broth is savoury and fragrant, and simply amazing when slurped with the noodles!
Halal Status: All meats served are halal.
Website: pinoswarung.com/
Address: Unit 2, Italian Alley, The Stables Market, Chalk Farm Rd, Chalk Farm, London NW1 8AH
Hawker's Kitchen – Malaysian Char Kway Teow
Char Kway Teow is a very common and popular stir-fry noodle dish at every Malaysian restaurant. The best one in London, in our opinion, ought to be from Hawker's Kitchen. It's called the Kway Toen Goreng on their menu with the option to choose between seafood, chicken, or vegetarian. What made it stand out is the perfect "wok-hei", which is the key to any stir-fry dish, as well as a really good kick of spice! The dish is spicy, smoky, and has got a subtle caramelised touch from the extreme heat of the wok. All in all, it will no doubt leave you to keep wanting more!
All meats served are halal.
Location: King's Cross
Lahpet – Mohinga & Chow Suey
Burmese food doesn't get much of the spotlight across Pan-Asian cuisines and halal options tend to be rather rare as well. If you'd like a taste of Burmese cuisine, then check out Lahpet in Covent Garden, where they serve halal chicken options. For noodles, Lahpet makes a Mohinga, which is a traditional Burmese fish noodle soup that's packed with rich and aromatic flavours. They also make Khow Suey, i.e Coconut Noodles with Chicken, and a traditional Tofu Nway, which is a tofu soup with rice noodles.
Halal Status: Chicken is halal at the Covent Garden branch. Pork and alcohol present.
Website: lahpet.co.uk/
Address: 21 Slingsby Place, London, WC2E 9AB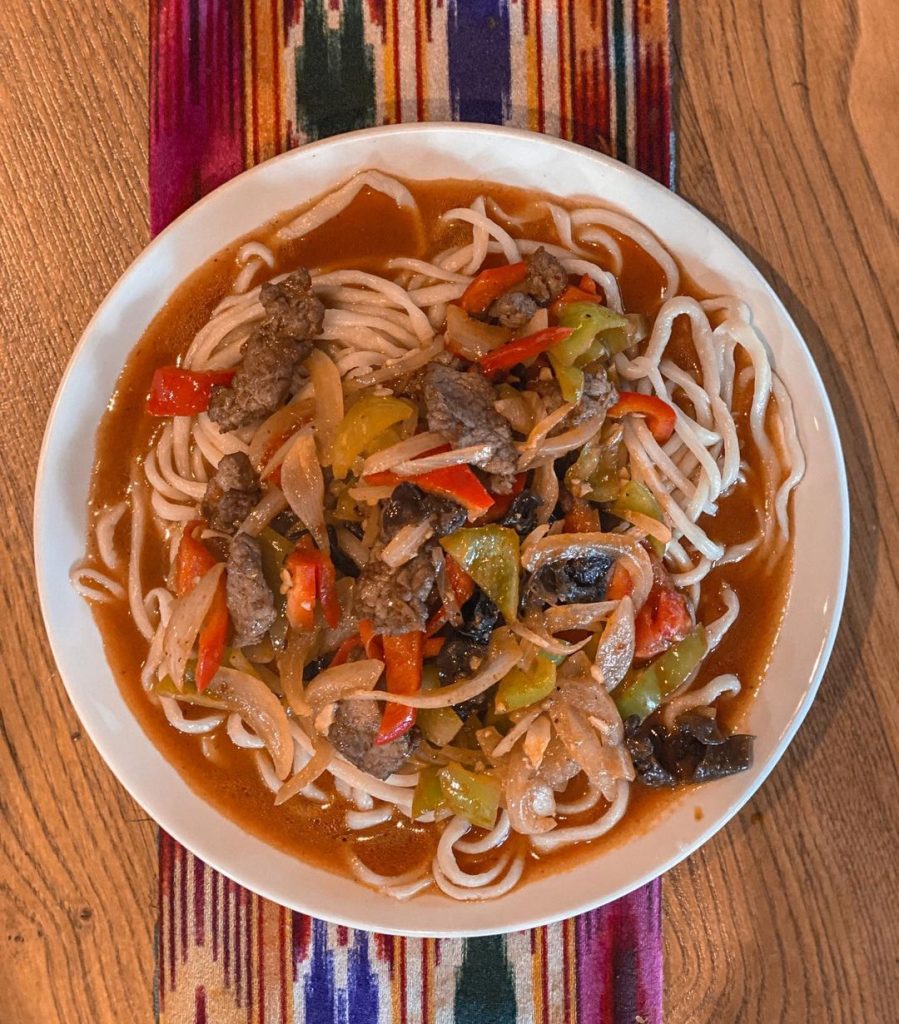 Etles – Uyghur Leghmen
Lamb skewers, dumplings and Da Pan Ji aside, leghmen is another signature staple of Uyghur cuisine. It is essentially hand-pulled noodles that are adapted from the Chinese Han noodles and incorporate traditional Uyghur culinary techniques. The noodles are topped with vegetables and peppery sauce, or you can get them stir-fried too!
Halal Status: All meats served are halal. No pork or alcohol present.
Website: etlesfinchley.com/
Locations: Walthamstow / Finsbury
Turpan Uyghur – Uyghur Chopped Noodles
These aren't noodles for slurping as they are all chopped up in this traditional Uyghur dish at Turpan Uyghur! Marjan Chop is essentially just like a stir-fried noodles dish, but the noodles are all chopped up. It's like you're eating noodles but not eating noodles at the same time! Despite being chopped up into small bite sizes, you can still detect the light bounce and al dente texture from the handmade noodles, and of course, the dish was solidly delicious to taste as well.
Halal Status: All meats served are halal. No pork or alcohol present.
Website: turpan.co.uk/
Address: 108 Great Russell St, London WC1B 3NA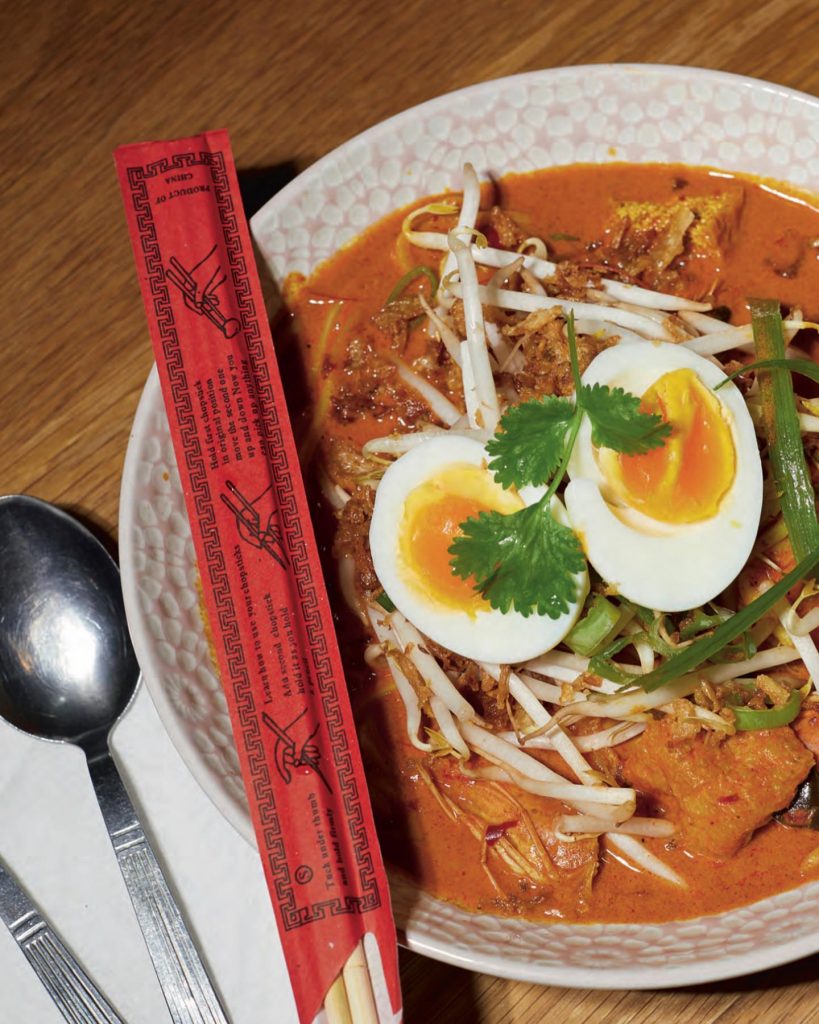 Normah's – Malaysian Curry Laksa
One of our go-to orders at Normah's is the Curry Laksa. The hidden gem in Queensway Market serves up some of the most homely and delicious Malaysian food, and the curry laksa features egg noodles drenched in a thick, rich and fragrant broth, topped with either chicken or prawn. Don't forget to get an extra side of Normah's ridiculously scrumptious and flaky Malaysian roti too!
Halal Status: All meats served are halal. No pork or alcohol present.
Website: normahs.co.uk/
Address: Normah's 23-25 inside Queensway, Market, London W2 4QJ
Sambal Shiok – Malaysian Campur & Assam Laksa
Laksa noodle soup comes in different variations across different regions. Sambal Shiok's laksa is of Malacca 'Campur' style, which is more of a crossover between Curry & Assam Laksa and is wonderfully hot and umami to taste. The laksa comes with rice noodles and is loaded with tofu puffs, bean sprouts, green beans, and your choice of chicken and/or prawns. Alternatively, if you fancy something tangier and sourer, go for the Assam Laksa! A vegan broth is also available on the menu.
Halal Status: All meats served are halal. No pork but alcohol present.
Website: sambalshiok.co.uk/
Address: 171 Holloway Rd, London N7 8LX
Mrs Chew's – Cantonese Roast Duck Noodles
If you're looking for affordable halal Cantonese roast duck, Mrs Chew's is a solid pick. We like to get the roast duck with noodles, which comes in a fairly generous portion over a bed of egg noodles tossed with sweet soy sauce. It also comes with chilli oil, a bowl of broth, Chinese cabbage, and cucumbers to complete the meal.
Halal Status: All meats served are halal. No pork but alcohol present.
Website: mrschews.co.uk/
Address: Westfield London Shopping Centre Ariel Way, London W12 7GF
Murger Han – Chinese Xi'an Noodles
Noodles are integral to Chinese cuisine. Looking for freshly made hand-pulled noodles that stretch higher than you can lift? Murger Han's noodles are the ones to go for. The most popular dish ought to be the Biang Biang Noodles, which is a Xi'an speciality, featuring long flat noodles tossed with garlic, spring onion and chilli oil. Alternatively, you can also enjoy it with spinach noodles or La Tiao Zi (i.e. hand-pulled noodles).
Halal Status: No halal meats. Vegetarian options available. Pork and alcohol present.
Website: murgerhan.co.uk/
Locations: Mayfair / Monument
Bạn Bè Takeaway– Vietnamese Pho
Halal Vietnamese pho is hard to come by and very often far from the real deal. That's why we love Ban Be, a fully halal Vietnamese takeaway business that is passionate about delivering authentic Vietnamese flavours to London. Whether it's the Tender Oxtail Pho or the Rare Ribeye Beef Pho, you can expect an aromatic bone marrow broth with fresh palatable Vietnamese flavours. Chicken pho and vegan pho are also available to order.
Halal Status: All meats served are halal. Opened on weekends only. No pork or alcohol present.
Website: instagram.com/banbeldn/
Address: 1 Liberty Bridge Rd, East Village, London E20 1AS
Previous Post
Next Post