Flaming Cow
As of a few weeks ago, BW has had the utmost pleasure of sharing his car with me, and I can't tell you guys how much I love it. With my past history of writing cars off and almost driving us over the cliffs in Costa Rica, I was very surprised that BW agreed on insuring me on his car, but in my defence, I didn't have access to any transportation and I definitely couldn't walk anywhere. Basically, he didn't really have a choice. 
When an email from Flaming Cow dropped into my inbox, I decided that I would drive all the way to Ealing to show BW that he could trust me with his car, and that there was absolutely nothing to worry about. An hour and several heart attacks later, we successfully made it to Ealing without a scratch on the car.
The Ealing branch is Flaming Cow's second restaurant, with the first being based in Eton. I was delighted to find that the Ealing one do serve halal beef, lamb, and chicken, and there is absolutely zero cross contamination in the kitchen between the halal and non-halal ingredients (there is pork present). Unfortunately, the Eton branch do not serve halal, but perhaps this could be something they'll consider in the future.
[Sorry about the quality of the photos, the lighting wasn't my friend that day! 🙁 ]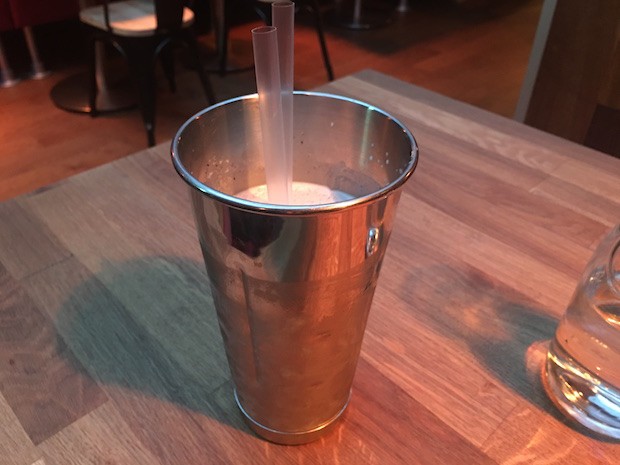 Thick, creamy, peanut-buttery milkshake with plenty of Oreos blitzed in. A good milkshake, but extremely filling!
One of the (rare) things BW and I have in common, is our eternal love for fish tacos, and we're always on the hunt to find the best ones. Flaming Cow's tacos were great and our favourite dish of the night; fresh, crunchy and refreshing. The fish had been sliced into goujons, coated in a crispy buffalo flavoured layer, and fried to a lovely golden colour. All the ingredients complimented each other really well, and I would happily return just to eat these.
I know, I know, you want to read about the halal, so here it is!
I started off with my usual order of the house cheeseburger. It isn't the most exciting burger choice, but it usually indicates how good the flavour of the burger is without loads of extras. Flaming Cow's 6oz patty arrived in a squishy bun with chopped onions, pickles, melted American cheese, ketchup and mustard. The patty had been cooked to a medium-well, with a nice char from the grill to add smokiness to the meat, and there was a plenty of flavour in each bite. Bonus: the burger held together! Sure, it was a little plain, but it is just a cheeseburger and you're able to customise your burger with their varied menu options such as the brunch burger and the peanut butter and jelly burger (basically my dream!).
BW ordered this hefty 8oz lamb patty served with tzatziki, sweet roasted peppers, and peppery rocket. The flavours were really fresh and the tzatziki added a nice lightness to the lamb, as opposed to a rich cheese or heavy fillings, but perhaps more was needed to add some moisture to the patty.
By this point, we were both dying, and couldn't possibly have another bite. But we powered through for the sake of this review and got stuck into this massive hot dog. The beef dog was stuffed inside a glossy soft bun, and topped with deliciously soft onions, mustard, and ketchup. The sweetness of the onions helped to add flavour to the hot dog, which was okay, and also offset the tanginess from the mustard. I personally was not a fan of the hot dog myself, but can see it being enjoyable for others.
This mountain of cheeeeese arrived with fries, marinara sauce, and vegetables. In theory, it sounds amazing, and it wasss amazing at first, but soon became quite overwhelming. A nice side dish for those in a large group, but not so much for two people as it became quite rich. The fries also became soggy because of all the toppings, so maybe we would stick to the normal fries next time.
Deep-fried pickles with a tasty chipotle mayonnaise. The batter was deliciously bubbly and crunchy, but needed a little seasoning.
The total bill amounted to £50 for two people, so £25 each including drinks and service. It may sound like a pricey burger date, but we had definitely over-ordered and could have done without several dishes. Keep in mind that the portions are substantial so it is worth coming here with a group of friends so you can try different things on the menu. There was a small wait for the food, but it was not long enough to warrant a complain and everything arrived fresh and piping hot. The service was quick, attentive, and helpful.
Although it was not the best burger I have had, the food at Flaming Cow was better than most halal gourmet burger joints I have visited. Not only did the ingredients taste fresh, they were of high quality too which made the meal even better.  We only managed to try a small amount of their vast menu, but I was pleased with most of what I had eaten, especially the fish tacos, and their menu is able to cater for even the fussiest of eaters.
Of course, he drove back home.
Disclaimer: I was invited to review this restaurant
Both pork and alcohol is served at this restaurant, but the owner informed me that any non-halal ingredients are kept and prepared separately to any halal products in the kitchen. The halal status has been verified by the owner himself and he has halal certificates available for the beef, lamb, and chicken. This is a child friendly establishment.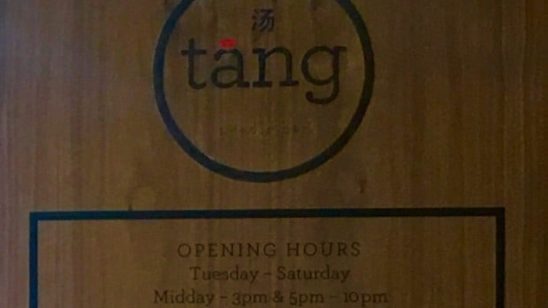 Previous Post
Next Post