Maldives, Part 1
DAY 1
Finally, the day of our omg-so-amazing honeymoon had come, and just before we set off, I decided to go home to say one last goodbye before I officially left the house as a married woman. Unfortunately, I was the only one with tears streaming down my face and it seemed like everyone else was happy (and even almost relieved?) that I happened to be leaving! Feeling glum, BW did his best to cheer me up all the way home, but it wasn't until the Emirates car came to pick us up that I was all smiles!!
Reaching the airport, we rushed around for any last minute essentials we may need such as M+Ms, twix, a copy of cosmo, and then finally made our way over to the plane. As soon as we were cozied into our seats, I grabbed the menu and placed my order! Yep, the wedding diet was officially over.
Potato, Cucumber & Chive Soup

A velvety potato soup mixed with chives and cucumber, and topped with a dollop of cool crème fraiche.
Mozzarella and Bresola

Cold slices of creamy mozzarella cheese paired with air-dried beef, tomato salsa, and a drizzle of olive oil. The smooth texture of the mozzarella was a perfect and delectable match to the dry beef, and tasted heavenly inside a sandwich like BW made.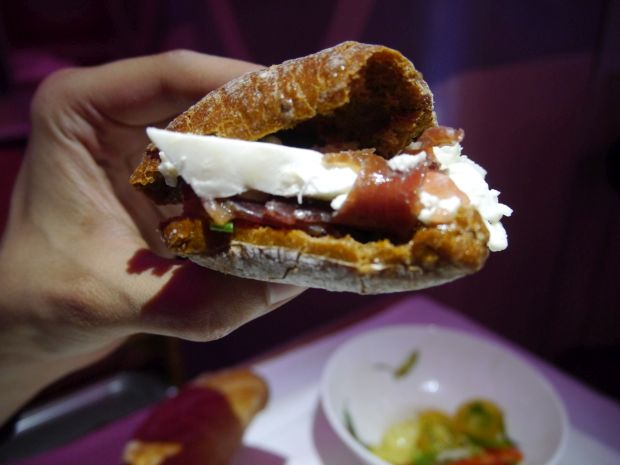 Lamb Noisette

Two chunks of lamb arrived piping hot with confit-style potatoes and vegetables. Although looking screen-licking gorgeous, the meat had been cooked to a grey hue meaning it was tough and had lost flavour which was present in the lamb-jus that was served underneath the lamb.
Grilled Chicken

A generous portion of chicken thigh which had been grilled until the skin became crispy, and served with a flavourful gravy. The vegetables were soft and had been thoroughly seasoned as had the chicken been. It was the better main out of the two meaning I was harassing BW for a bite every so often.
Definitely one of the better airplane meals I have had, and stuffed from eating BW's main course, I opted out of dessert and drifted off.
DAY TWO
After a ten-hour journey (including an hour stop-over in Dubai), we arrived in the not-so-sunny Maldives at 4pm, and caught a speed-boat to take us to our island. Unfortunately, our honeymoon was during the Maldives' rainy season hence the grey skies and big clouds covering the sun :(. We were however told it would only last a couple of days, and as we were driven to our beach villa, I quickly forgot about the clouds and was overcome with excitement.
Fruits, cake and non-alcoholic wine to welcome my (I mean our) arrival!
Once we were settled in, we had a very, very important decision to make – where would our first date of the honeymoon take place? Would it be Indian? Italian? Nope! We decided to get our barbeque on, and visit Kandu Grill.
Mocktails
Snapper Tartar

Although not aesthetically pleasing, refreshing and cold chunks of fresh red snapper was smooshed together with coriander into a little patty and sprinkled with lemon juice.  When dipped into the accompanying mango salsa and cool coconut shavings, the snapper tasted even better with the sweetness coming from the mangoes and the milkyness from the coconut.
Organic Quinoa Salad

Just something healthy as a side dish!
Australian Rack of Lamb

As an avid beef lover, I went against all odds and ordered a rack of lamb even though there were about 5 great steak options on the menu. Three fat, juicy and chargrilled lamb cutlets arrived with deliciously roasted garlic and a smudge of potato mash. The cutlets were cooked to a yummy medium and had that smoky charcoal crunch with every bite.
Chicken Island Special

A quarter of what must have been the biggest chicken ever was served with a tomato based stew on the top, two mini salads, and two rotis. The chicken was lightly pan-fried, hot, and moist. The almost curry like sauce on the top contained grated carrots, onions, and peppers, however I felt that it needed more spice in order to give flavour to the chicken.
DAY THREE
Boy oh boy, the breakfast buffet was endless! From the freshly baked bread station to the cheeses, cold cuts, the section with bites from around the world, the fresh smoothies and the desserts, we were spoilt for choice as to what we had each morning. BW would swap around his options every day whereas I took the "hands-on" approach and just picked up as much as possible!
Here are some of the breakfast highlights:
Pancakes with strawberries and blueberries

Hot fluffy pancakes infused with sweet strawberries and blueberries. The juice from the fruit leaked into the pancakes making it that extra bit sweeter and yummier!
Fried Eggs

BW's perfectly fried eggs with bright yellow yolks that burst at the touch of a fork.
Waffles

Thick, crunchy waffles that were sweet enough on their own without the maple syrup but I drizzled the lot in it all anyways!
Fruit

A huge selection of freshly sliced fruits. Definitely a thirst quenching and refreshing start to the morning!
The Time I Caught Dinner 🙂
Sunset fishing may not sound like most adventurous activity to do, especially when the boat is steered by foot and looks like this:

BUT, it won me over. It wasn't the usual fishing where you sit with a rod and a tiny little worm hooked on at the end, you literally sit there with a piece of string and a chunk of fish attached to the hook, and you wait. You wait until you feel a slight ping of the string, flick it up and reel it in! The best part is that any fish you catch, the hotel chef will cook it up for to have for dinner that very evening!
About 98% of the time, well probably just with me, the fish ate the bait without me knowing but because I'm a pro, I finally caught a huge white snapper! BW, jealous of my success, went on to reel in something even bigger but had to throw it back into the water because it wasn't safe to eat. Ha. We managed to catch four large fish and see the sunset whilst out in the middle of the ocean – absolute bliss. It was time to go back to the hotel to eat our yummy freshly-caught fish at the Cafe Huraa restaurant!
Mocktails
Spinach Salad with Caramelised Onions

Butternut Pumpkin Soup with Crab and Pistachios

A heart warming bowl of pureed squash topped with warm crab shavings mixed in with cilantro and grated pistachio nuts.
Grilled Fish

My whole entire fish was chargrilled till the skin became crispy. The snapper meat was so soft and tender that it just flaked away and the bones easily slipped out.
Sweet and Sour Fish

A Chinese take on the white fish. Chunks of fish was dipped in batter, fried, and then smothered in a sweet and sour sauce. Huge pieces of peppers and onions were stir-fried adding extra flavour to the fish.
Crisps

Cafe Huraa's take on Walkers. Thinly sliced potatoes arrived piping hot and fried to a delicious mouth-watering crisp.
Who knew I could catch such delicious tasting dinner!
Previous Post
Next Post