Ramadan in London 2017
Ah, one of our favourite and most blessed months, Ramadan, is finally upon us! It is a little ironic that someone who talks, eats, and sleeps halal food loves Ramadan so much, but when there are so many good halal restaurants in London, you just can't help yourself. So for those days that you don't fancy cooking, I've compiled a guide to Ramadan in London 2017 which consists of restaurants/concepts/pop-ups that I think are worth a visit for Iftar and Suhoor!
CLASSIC COMFORT FOOD
Red Iron in Uxbridge will be giving away free weekly Iftars for two (perfect for date night!) in their new dining area. Keep a close eye on their social media: @RedIron_Uxbridge on instagram. 
Treat yourself after a long day of fasting with an American Iftar at Boondocks.  Each ticket will include starters (the date cookies are essential!), a main, side, dessert, and a drink, all for £21.50. They will be running this from 26th of May until 24th June, and you will be requested to get there for 8:30pm to ensure your food arrives in time for Iftar! Buy your tickets here.
BIRD take pride in their crispy fried chicken, which in my opinion, is the ideal way to break fast this Ramadan. They have a set 3-course menu for £21.50, which will feature the likes of chicken and waffles, doughnuts, and deliciously sticky wings. This is applicable to all three locations: Camden, Islington, and Shoreditch, and you can buy your tickets here. 
HS&Co will be taking bookings for their Iftar menu which will feature a burger known as "The Break Fast Burger". This burger will be topped with mushrooms, beef bacon, and a fried egg so you'll leave there completely satisfied for both Iftar and Sehri! 
Ariana II is a family-run restaurant serving up some of the best Afghan comfort food in London. I'm talking crispy fried turnovers (bolanis) and fall-off-the-bone Kabuli Palow – this has Ramadan written all over it. They will be offering their diners complimentary dates and hummus/mast-o-khiar with fresh fluffy naans with starters throughout this holy month!
DATES FOR THE DIARY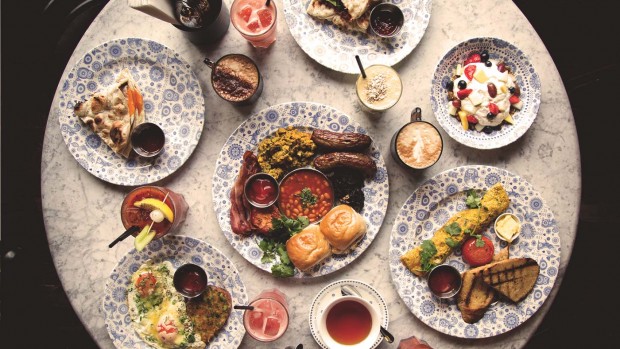 Dishoom as always will be offering dates and nimbu pani to those observing Ramadan (don't forget to ask your waiter!), but their executive chef, Naved Nasir will be hosting a celebratory Iftar on 21st of June at their Kings Cross branch, as part of London Food Month. All proceeds from this special and delicious Iftar will be donated to help teenagers from conflicted countries lead a more peaceful life. For more information, click here.
Darjeeling Express hasn't yet opened, but 16th June, Asma Khan and her team will be giving away 100 free Iftar packs, filled with plenty of delicious goodies, between 6pm-9pm. These same food packs will also be distributed to the homeless. If you miss out on this, she will be running a special Eid lunch on 25th June at her new establishment that will feature the traditional lamb dum biryani as well as puchkas and shikampuri kebabs – this is definitely one of the diary! Buy your ticket here. 
SOMETHING DIFFERENT
Sapna Caterers are really upping their game this year and are incorporating live slider stations (mini masala lamb burgers!) and chaat counters into their classic buffet, as well as introducing a fresh slow roasted beef carvery table. Finish off your Iftar with gelato and a cup of karak chai, all for £22.99. For more information, give then a call on 07425 610 715.
Every Ramadan, Meat and Shake offer special limited edition dishes, and this year, tacos are on the menu! Think slow-cooked smoked lamb, jerk chicken, and jackfruit tacos topped with queso cheese and Sriracha mayonnaise; you know where I'm heading for Iftar!  Be sure to give them a call before your visit so your food arrives on time!
Tabun Kitchen, a fairly new Middle Eastern restaurant, will be offering their diners a 5-course menu for £40. Be sure to order their lamb kofte and tahini manaeesh, the Palestinian take on pizza. 
Mamounia Lounge will be hosting a £40 Lebanese Iftar menu for their diners, with an ample amount of food to choose from! Finish off the meal with some flaky, buttery baklava and a well deserved shisha at their Knightsbridge branch.
FOR THE FAMILY
If you're looking to be a little fancy for Iftar, you can book yourself and your family in at the Intercontinental at Park Lane for their special Iftar three-course menu set at £45 per person. This will include traditional Lebanese goodies like cheese sambousek and shish taouk, and they also have prayer room facilities.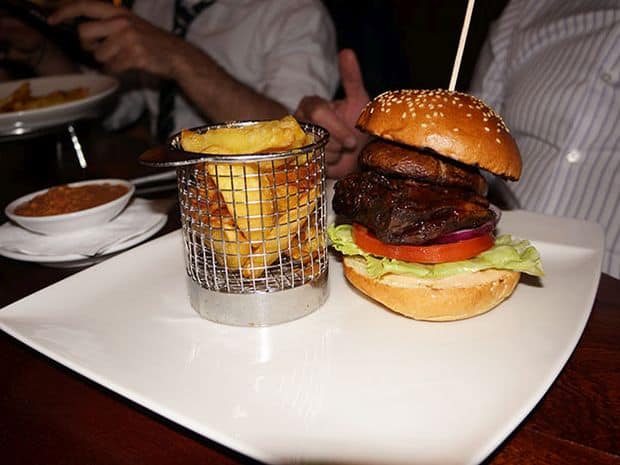 Alternatively, Meat Company in Westfield City will be offering their Muslim diners complimentary dates, yoghurt, and soup come Maghrib time, just before they tuck into their delicious steaks and other mouthwatering meat options. Be sure to book in advance and ask for the halal menu.
Bombay Palace, a classic Indian restaurant in Connaught Square, is ideal for a cosy yet nice date night with the Mister. They will be providing those who are fasting with complimentary dates on the table.
SUHOOR
If mum wants you home for Iftar, Brioche Burger are serving a special sehri menu with their new breakfast goodies such as fluffy banana pancakes and a meaty full english breakfast, as well as their classic aged burgers (I suggest the Super Saiyan). This will operate from 10:30pm – 1:30am, Thursdays to Sundays only.
FEEL GOOD IFTARS
One of the main components of Ramadan is giving charity and helping those in need, so why not attend The Ramadan Tent Project one evening this month. Both the homeless and public are invited to break fast together, as well as helping individuals rebuild their confidence and social connections. These iftars will be taking place daily at Malet Street Garden, just off Tottenham Court Road. Read more about it here.
The Big Iftar is an initiative to encourage Muslim and non-Muslim communities to come together and have Iftar together at different centres around the UK. Several iftars have already been planned for all over London, so if you fancy making some friends and meeting new people from different backgrounds, check their Facebook page for upcoming events and more information. 
I'll be updating this post throughout Ramadan so be sure to keep checking in!
Ramadan Mubarak! X
Previous Post
Next Post